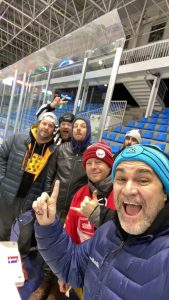 This past Sunday saw the return of BIIH action and the first in the Living with Covid era.
Game 1 saw a spirited tilt between the Quacken and the Bulls. During the Pre-game skate concerns were clearly voiced over the absence of league veteran Doc Martin from the Quacken bench. It seems some of the boys weren't totally convinced they'd make it through the match without hailing for medical attention, but surprisingly everyone was fine. The game opened with massive offsides and general confusion as a lot of guys hardly remembered the rules. Once everyone settled in, shook out the covid cobwebs and snapped a couple beers into them the Quacken went ahead and kicked ass like usual. The now omnipresent Courage potted 5 points and CJ added 2 tucks to lead the boys to a victory.
In the late game, the Revs and Warriors stayed up later than they had for weeks. Despite solid goalkeeping from Alex, Arseniy's puck control and consistent onslaught eventually wore the Revs down. Jani had a great game around the net chipping in with 2 points and Rayzor kept the sheet clean as the Warriors skated to a 4-0 win.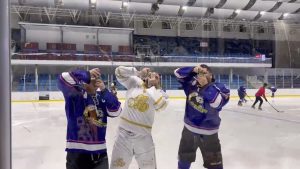 The marquee matchup for the night was the Expos and the Bears. Kicked-off by a captain's shotgun in front of a raucous and inept dog pound, the Expos were out to show off their now annual Chinese New Year threads. Described by one spectator as 'Vanna White', the boisterous colour scheme did include a nod to the upcoming year of the rabbit, which one could closely examine with a good pair of UV-protectant polarizing eyewear. And then they played hockey. As the Expos slowly inch their way back to having a full team on the ice, their confidence is growing. Goals were pouring in left, right and center in this one as Richy Z potted 4 for the 'spos and Ilya returned favor with 4 of his own for the Bears. But it was the young gun Ryan Senti getting off the schneid on this night with two goals – his first and second of the season and his BIIH career – that tipped the ice in Expos favour and sealed their victory over the Bears. Final score 7-6.
Looking forward to the Annual Pond hockey tournament this weekend! Stay tuned and let's hope the weather stays cold!