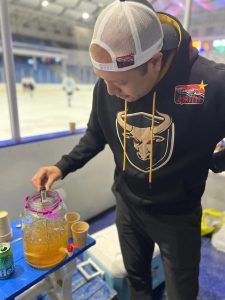 Sunday nights have never been hotter in the BIIH. Last night saw half the league banged up from Kris Z's wedding (congrats, Fella) and the Bulls come out more prepared than ever to trample a few unsuspecting BII livers.
The evening began with a barn-burner tale-of-two-periods from the Bears and Warriors. Arseniy and the Warriors opened up a big league by halftime, but the Bears clawed back and got their vengeance in the second, scoring 6 goals and coming out on top. Olivier and Rocket Robbie lead the way, and there is really something to Il y a' s game.
Game two saw the Expos welcome back their leader and spirit animal, Ian the fountain-of-youth Fontaine. Fresh off two consecutive Achilles injuries suffered mainly due to his commitment as a father, Fontaine was able to lead the boys back to battle against the Hot Wings. He even found the scoresheet with a helper. Unfortunately for the Expos the highlight real ended right there for their evening as the Wings full roster was firing on all cylinders. Jeff Z pumped in two goals for the second game in a row, Bowen notched five points and veteran new guy Scotty Y tallied a goal, the first of his BIIH "career".
As the heavy Bulls presence dominated the stands, game three saw a thrilling bout between the Quacken and the Revs. Surprisingly, no one puked, as far as we could tell. With half-digested wedding baijiu and Bulls Hard Lemonades surging through their blood vessels, these teams gave the crowd a show out there. No one heard from Courage all day, and the Revs seem to have a knack for growing Russian superstars out of nowhere, so the Quacken knew they were in one from the get-go. Lead by the spirited play of Curt and Baggsy, the Quacken hung around in there with the Revs but ultimately fell short of Northcott and Walton's squad on this night. Sparky Whitelaw was a factor out there for the Revs and ended up POG for his efforts.
As the temps drop, we just keep turning up the heat on Sunday nights in the BIIH!