Week 9 in Beijing's beer league saw the first "late-night" game of the season, as the Bulls and Revs faced off in the evening's third and final game (at 9:30pm, which really isn't that late).
The league game schedule wasn't the only thing to change this week, as Bulls Captain Caleb "Canterbury" Hill decided to mix up the team's line combinations in favor of scoring power up front.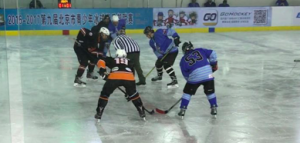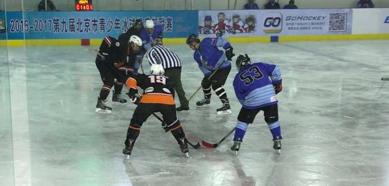 The league's youngest rookie, Eerik "Ekkie" Harju, who is becoming known as a stand-up defenseman, centered the second line and helped the Bulls build up a 6-2 lead at half.
Saturday night before the game could have been too much for Revs center Conor "Conundrum" Smith, as he wasn't quite able to reach his typical 3+ points per game. Sources close to the Revs team say Conundrum wasn't happy with his tape job before the game, but didn't have time to fix it, which may have caused him to lose focus.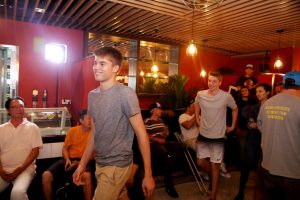 The Bulls continued to pressure the Revs defense as the game went on, and with a five-goal performance from Joose "Juice" Harju, the Bulls were able to maintain a spot near the top of the 2016-17 standings with an 8-3 victory.
Goaltenders Misha "Iron Curtain" Borodin and Sasha "Shasa" Sa, who was playing in her second consecutive game of the night, both came up with at least a dozen and a half saves. Which is pretty damn good in this league.
The Bulls will take on the Oilers in Week 10 at 6:45pm on Sunday, November 13, and the Revs are on right after them against the Grinders.
Article by Eerik Harju
Editing: Chris Clark